Asclepias incarnata – Swamp Milkweed – 1 gallon pot
$12.00
Host Plant – Monarch
Red Milkweed attracts butterflies of all kinds and the leaves are a preferred food source for the Monarch Caterpillar.Asclepias incarnata thrives along ponds, streams and detention basins. It preferes moist soil but also does wel in average, well-drained garden sites. Full sun is best and some light shade is tolerated. No butterfly garden is complete without Red Milkweed, also known as Swamp Milkweed or Marsh Milkweed.
Out of stock
You may also like…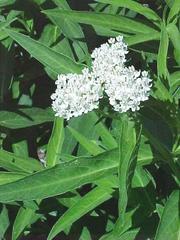 Asclepias incarnata – 'Ice Ballet' Milkweed
'Ice Ballet' is an elegant, long-blooming, bright white cultivar of native Asclepias incarnata (Swamp Milkweed) and features a compact habit and dark green foliage. Swamp milkweed occurs throughout most of the United States. It is a tall plant found in moist habitats such as wet meadows, floodplains, riverbanks, pond shores, stream banks, wet woods, swamps, and marshes, although it will also grow in drier areas such as prairies, fields, and roadsides. Asclepias incarnata needs full sun or partial shade to flourish. Flowers are very attractive to butterflies and bees as a nectar source. Swamp milkweed is also an important food source for the larval stage of Monarch butterflies. The plants are deer resistant and heat tolerant.
Available – May 2017
$

6.50
Read more