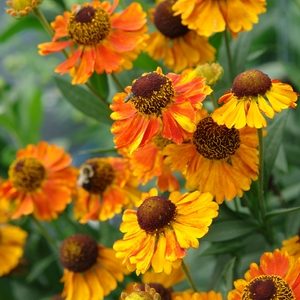 Helenium flexuosum 'Mardi Gras" Sneezeweed
Sneezeweed or Helen's flower
Helenium 'Mardi Gras' produces a festival of multicolored blooms to jazz up the garden for six to eight weeks in mid to late summer. Yellow petals are lavishly edged with bright orange-red, aging to clear red edged in gold, all surrounding deep chestnut cones. Gorgeous in a pot! Great as a cut flower, its long stems are sturdy and vase life is long. Heleniums are naturally resistant, even toxic, to deer and rabbits. An early pinch back helps promote branching.
Sneezeweed Interesting Notes
Produces a riot of multicolored blooms for six to eight weeks in summer, from late June to early August. Yellow petals, lavishly splashed with orange red, form wildly patterned stiff skirts around deep brown, mounded center cones. The "tie-dyed" flowers are 1.5 to 2 inches (3-5 cm) in diameter. Forms upright clumps with sturdy stems that sway gracefully in summer breezes. A massed planting will form tight shrubby bushes of impressive size in two years. – Must Have Perennials™
Winner of the Calgary Horticultural Society's 2012 Perennial Plant of the Year Award
Sneezeweed is a natural rabbit repellant.
Helenium 'Mardi Gras' Growing and Maintenance Tips
Good resistance to most insects and diseases. Will thrive in full sun and well-drained soil. While it's happiest with frequent waterings, it does not require high fertility levels. Fertilize sparingly to reduce risk of weak stems. Plants may benefit from being cut back in early spring to encourage more branching and floriferous growth. Foliage should be cut back after flowering. May need staking.
$

6.50
Read more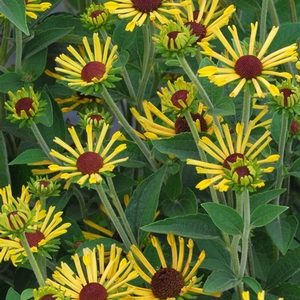 Rudbeckia subtomentosa – 'Little Henry' Dwarf Black-eyed Susan
Sweet coneflower or sweet black-eyed Susan
A shorter version of the popular 'Henry Eilers'
Delightful quilled yellow petals
Perfect for smaller landscapes
Introduced by Terra Nova Nurseries
The most darling little selection of native sweet coneflower you'll ever see! This is a third shorter than 'Henry Eilers'; the height has great appeal, but it is the unique petals that draw the most attention. Surrounding the traditional brown-eyed Susan cones are narrow quills that jet out all around it. A wonderfully compact, upright and vigorous introduction from Terra Nova.
Available for shipping mid May
$

10.00
Read more