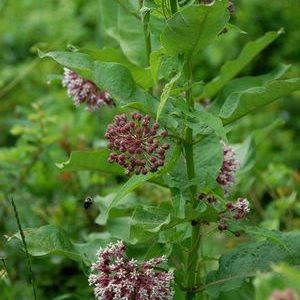 Asclepias syriaca – Common Milkweed
Asclepias syriaca Common Milkweed is the plant most people think of when they hear the word 'milkweed'.  This Michigan native occurs throughout most of the United States and thrives in almost any well drained soil and produces a profusion of fragrant mauve colored flowers in midsummer.  The sweet scented flowers attract hummingbirds, butterflies, bees, and other pollinators and beneficial insects. Of all the milkweeds this is the easiest and fastest to establish, yet it is known to be invasive and must be used with care. This milkweed grows best in full sun and average to well-drained soil with no irrigation and will tolerate extreme conditions.
Available May 2017
$

6.50
Read more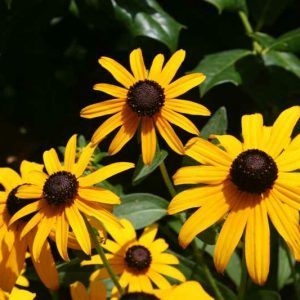 Rudbeckia fulgida 'Little Goldstar' Black-eyed Susan
Black-eyed Susan or orange coneflower
This knee-high performer is a knockout in the landscape! Selected for copious floral display and dwarf habit with increased manageability, this variety has excellent branching and forms a tidy, compact clump. A bit more floriferous than 'Goldsturm', flowers are held high above rich green foliage and bloom from July into October.
Black-eyed Susan Interesting Notes
Black-eyed Susans need little introduction, for whether lining the roadside or the garden path, they are some of our most cherished and recognizable wildflowers. They offer an award-winning combination of bold, eye-catching flowers and an easy disposition that has made the genus popular here and abroad. These are true meadow and prairie plants that are perfectly at ease with ornamental grasses, blazing stars, and coneflowers, among others, and they have helped to popularize a new trend in gardening based on a prairie aesthetic, characterized by bold sweeps of grasses intermixed with colorful drifts of late-blooming perennials. They are good nectar plants visited by a host of butterflies and other insects, and when in bloom look as if draped in a quilt of chocolate and gold. – From The New England Wild Flower Society Guide to Growing and Propagating Wild Flowers by William Cullina
Distinguishing features of 'Little Goldstar' include a dwarf habit, narrow leaves, healthy green basal foliage during flowering and a vigorous, floriferous display of blooms that last into fall. Vernalization is not required to bloom; however, it is recommended to produce the highest quality finished product.
Rudbeckia fulgida var. sullivantii 'Little Goldstar' Growing and Maintenance Tips
Adaptable to a wide variety of soil conditions in full to partial sun. Tolerates hot, humid summers and some drought. Deadhead to prolong blooming season. Disease and pest resistant.
$

10.00
Read more